Story and Photos by Christian J. Stewart (ISN)
September 19, 2015, Victoria BC (ISN) - The Mount Douglas Rams used their no-huddle, quick-strike offence to perfect effect on Saturday, building a 38-9 halftime lead, en route to a 45-15 drubbing of the Lord Tweedsmuir Panthers in BC High School Football AAA Varsity exhibition action at Mount Douglas High School in Victoria.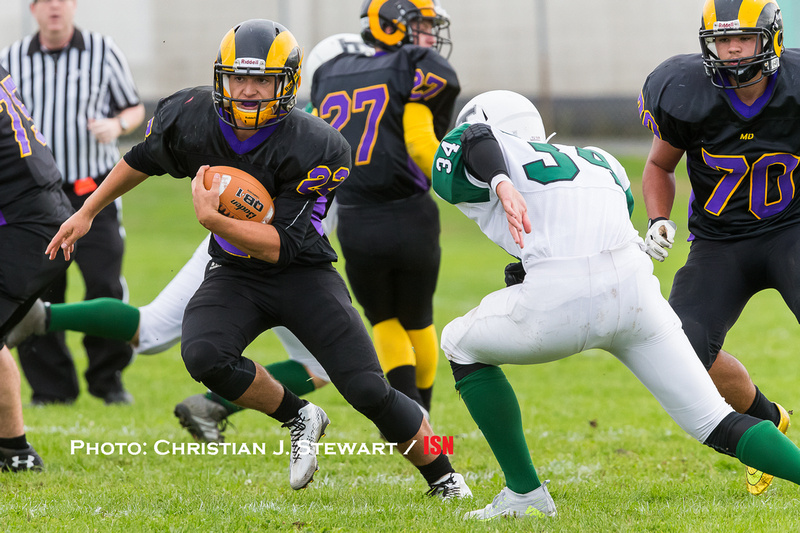 Mt. Doug running back Declann Michielin had a big game Saturday, running for three touchdowns and scoring a pair of two-point conversions (Photo: Christian J. Stewart)
For Lord Tweedsmuir, they started well, scoring on the very first play from scrimmage on a nice pass from quarterback Jonathan Chwaklinski to a wide open Joel Klaassen, but then would not see the endzone again until the very final play of the game, when running back Drey Blair punched one in from the five-yard line.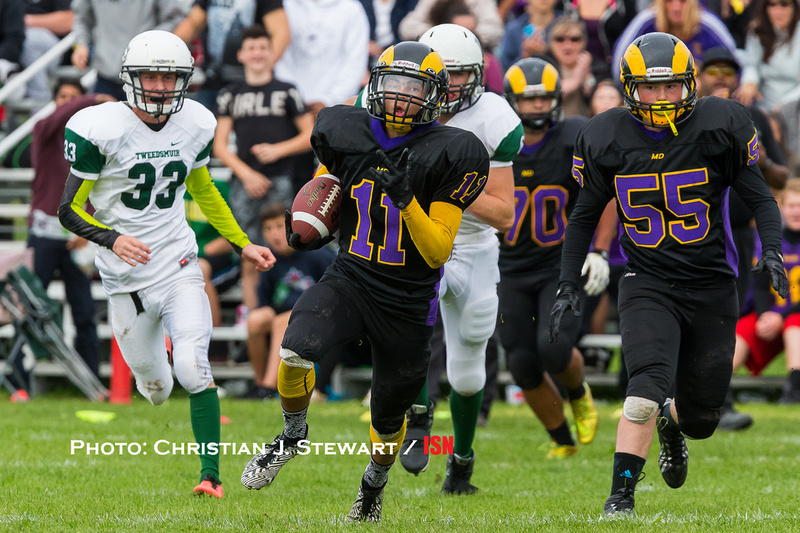 See you later! Mt. Doug kick returner Gavin Cobb leaves everyone in his wake, en route to an 80-yard touchdown scamper on Saturday (Photo: Christian J. Stewart)
In between those two scores it was all Rams, most notably running back Declann Michielin, who punched runs into the end zone from six, three and eight yards out to score the Rams first three majors of the day. Add to that a safety on a sack by Manny Lopez and a pair of two point converts and the Rams quickly overcame the early deficit to build a 24-6 lead early into the second quarter.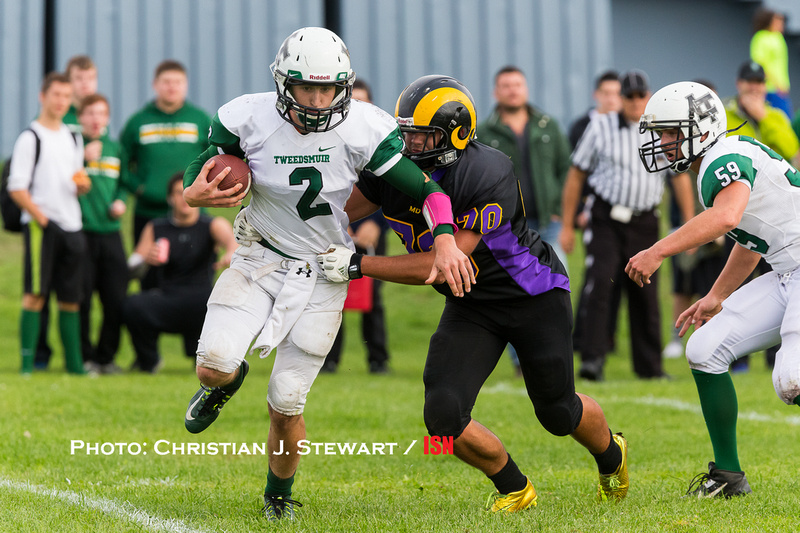 Moments after escaping a near safety on this play from a tackle by the Rams Michael Olson (70), Lord Tweedsmuir quarterback Jonathan Chwaklinski (2) would be sacked for a safety by Manny Lopez (Photo: Christian J. Stewart)
That lead was sparked in part by the Rams impressive hurry-up offence which they unveiled on their second possession of the game, when after an interception on their own 20, they seemed to get the ball into the Panthers end zone a mere minute or two later. It was an impressive drive, one that the Lord Tweedsmuir defenders had no clue how to defend and one from which they would never recover.
The Rams Gavin Cobb (11), also contributed as a receiver Saturday, finishing with 59 yards on 4 receptions (Photo: Christian J. Stewart)
Following Michielin's third touchdown run of the day, the Rams would strike again, when the Panthers made the mistake of punting to the Rams Gavin Cobb, who took the ball at his own 20-yard line and in explosive fashion, cut and deked his way downfield for an 80-yard touchdown return.
Lord Tweedsmuir's Drey Blair (1) would score a late touchdown on this play for the Panthers, beating the tackle of the Rams Spencer Meldrum (Photo: Christian J. Stewart)
A three-yard Manny Lopez scamper made the score 38-6 before the Panthers finally got back on the board with an 18-yard field goal to end the half at 38-9.
In the third quarter, the Rams took the ball first and in a complete turn-around of their hurry-up offense in the first half, showed everyone that they can play the control game as well, using up the entire quarter with just one drive that culminated in a five-yard touchdown run from Richard Innes-McDonald that put the Rams up 45-9.
Rams quarterback Gideone Kremler (right) looks for an opening behind the block of Declann Michielin (22) (Photo: Christian J. Stewart)
A running time fourth quarter left very little room for much else, save the closing touchdown from the Panthers, rounding out the score at 45-15.
Michielin finished Saturday's game with eight carries for for 58 yards and his three scores, plus a pair of two-point conversions. Quarterback Gideone Kremler had another strong outing completing 9 of 12 passes for 134 yards. Adding to his spectacular punt return and touchdown, Cobb was the leading receiver with 4 receptions for 59 yards.
Lord Tweedsmuir back Colton Zayshley (45) gets ready to take a hit from the Rams Oliver MacKenzie (4) (Photo: Christian J. Stewart)
On the defensive side of the ball, Michielin led the team with 5 tackles, followed by Justice Kremler with 4 and Trystin Waters with 3. Lopez recorded a safety, Josh Lucas had a fumble recovery and Gevhahn McNally-Hardisty had a huge interception in the 1st half that eventually resulted in the Rams second score.
"I thought this was our strongest first half effort thus far this season against a quality opponent in Lord Tweedsmuir," said Rams Head Coach Mark Townsend. "Our line play on both sides of the ball was excellent. We will need to maintain our physical game against our Island rival and always very tough John Barsby next Friday."
Junior Varsity Rams Defeat Tweedsmuir
The Junior Varsity Rams also went on to victory on Saturday, scoring a pair of second-half touchdowns to top Lord Tweedsmuir 22-6.
Mt. Doug Junior Varsity quarterback Isaiah Cardilicchia (12) gives a solid stiff arm to Tweedsmuir defender Yosef Drysdale (17) during the JV win Saturday (Photo: Christian J. Stewart)
The Panthers scored first and missed the convert, with the Rams responding with a score and convert of their own to hold a 7-6 lead at the half.
In the third quarter, the Rams Isaiah Cardilicchia set up his own 5-yard touchdown run, with a heroic 40-yard or so run on the previous play, just failing to reach the end zone.
JV Rams quarterback Gideone Kremler (1) escapes the grasp of Lord Tweedsmuir's Trey Jones (87) on this running play Saturday (Photo: Christian J. Stewart)
The Rams would control the game after that, scoring another late touchdown by Logan Sekyer and adding a two-point conversion to round out the scoring at 22-6.
Mt. Doug running back Logan Sekyer charges ahead for some hard earned yards against Lord Tweedsmuir on Saturday (Photo: Christian J. Stewart)
Both the Varsity and Junior Varsity Rams now travel to Nanaimo next Friday Sep. 25 for a match with the John Barsby Bulldogs. The JV game kicks off at 4:00 pm while the varsity game goes under the lights at 7:00.