MEDIA RELEASE
FOR IMMEDIATE RELEASE - June 30, 2017
Christian J. Stewart Photography Selected as Official Photographer, 2017 WBSC U18 Baseball World Cup
Victoria, BC - Mr. Christian J. Stewart is pleased to announce that Christian J. Stewart Photography of Victoria, British Columbia, in conjunction with James Mirabelli Photography of Thunder Bay, Ontario, have been selected as the official photographers for the World Baseball Softball Confederation (WBSC) U18 Baseball World Cup that will be held in Thunder Bay, Ontario from September 1-10, 2017.
2016 Victoria HarbourCats Baseball ClubJune 30, 2016, Victoria, BC - Members of the Victoria HarbourCats celebrate in the locker room after defeating the Kelowna Falcons 9-1 at Royal Athletic Park Thursday, clinching first place in the first half of the 2016 West Coast League season and thus securing their first playoff appearance in team history.

WHY I CHOSE THIS PHOTO: This photo highlights a couple of firsts, including my first ever locker room celebration and the HarbourCats first ever playoff appearance, coming in a season that saw them eventually reach 40 wins - the best in the league and a WCL record. The boys certainly did a good job of celebrating the first half title here and gave me a great "Joy of Victory" photo.
The tournament serves as the World Championships for the Junior age category (16-18 year olds) and will feature a record nine of the Top 10 ranked countries in the 12-nation tournament including the Canadian National Junior Team (#10), the United States (#2 and three-time defending U18 champions), Cuba (#5), Mexico (#6), Nicaragua (#15), Japan (#1), Korea (#3), Chinese Taipei (#4), Italy (#12), Netherlands (#9), South Africa (#29) and Australia (#8).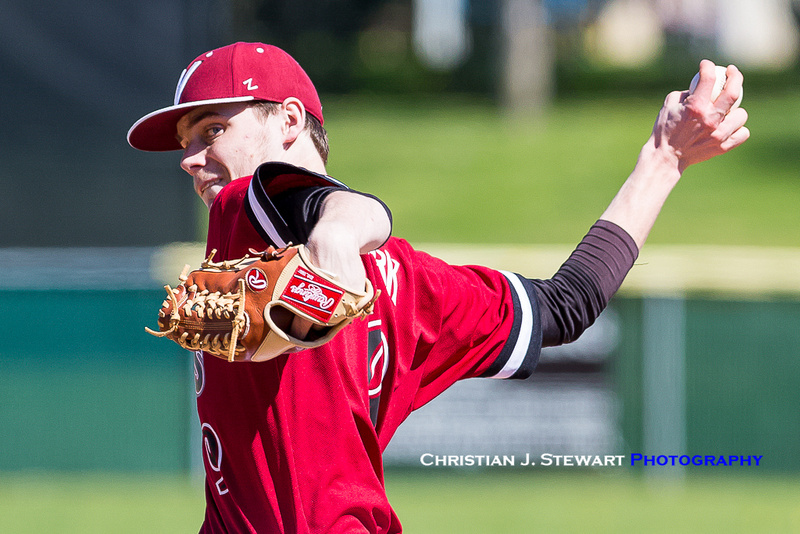 2016 Victoria Eagles Baseball ClubApril 9, 2016, Victoria, BC - Victoria Eagles pitcher Brody Stark delivers a pitch during a BC Premier Baseball League game against the the Parksville Royals Saturday at Lambrick Park in Victoria. The Royals would emerge with a 3-2 win.

WHY I CHOSE THIS PHOTO: This pitcher has such an exaggerated "backswing" to his wind up and I wanted to try and capture it as best as possible without his face being blocked out. Perfect lighting and the perfect angle from behind the plate, led to a perfect shot of his unusual delivery.
The tournament includes 50 games over the 10-day period, played at Thunder Bay's Port Arthur Stadium and Baseball Central and will showcase some of the top baseball prospects that the world has to offer, including, under a new agreement between WBSC and Major League Baseball (MLB), a number of players recently drafted and signed by Major League Baseball teams and their affiliates.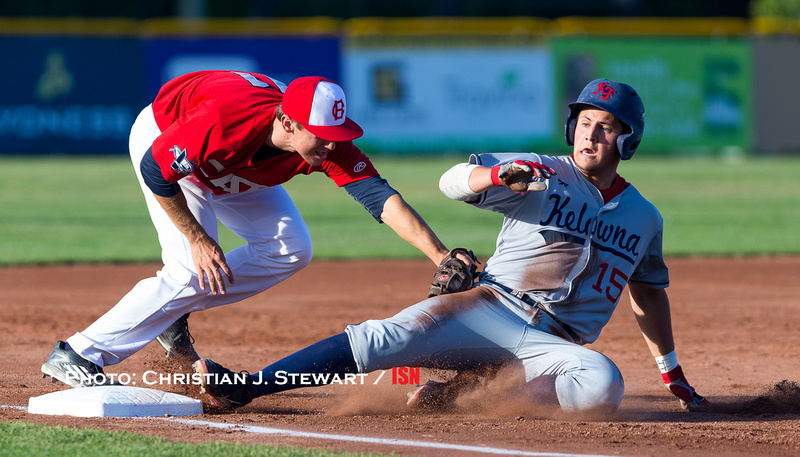 2016 Victoria HarbourCats Baseball ClubJune 30, 2016, Victoria, BC - Victoria third baseman Brad Pluschkell (left) puts the tag on the Kelowna Falcon's Michael Cianco (right) just before Cianco reaches the bag on this play in the third inning during a West Coast League game at Royal Athletic Park in Victoria. The HarbourCats would emerge with a 9-1 win to clinch a playoff position for the first time in team history.

WHY I CHOSE THIS PHOTO: I will often be asked by players and sometimes umpires "Did you get that play? Was he out or safe?" In this case, I loved that what was a "bang-bang" play to the naked eye, is clearly an out, by inches, when frozen in time. The soft, warm evening light, also made this a great baseball capture.
"I am extremely excited to have this opportunity to work with the WBSC," said Mr. Stewart, "and to be working with Mr. Mirabelli to provide the high quality baseball imagery that the tournament requires. Both Mr. Mirabelli and I are very well known baseball photographers in our respective areas of the country and we now look forward to sharing our images on the world stage."
2015 Arizona Fall LeagueNovember 19, 2015, Scottsdale, AZ - New York Mets prospect Jeff McNeil (10) of the Salt River Rafters heads toward first base after making contact during an Arizona Fall League game against the Scottsdale Scorpions Thursday at Salt River Fields in Scottsdale, Arizona.

WHY I CHOSE THIS PHOTO: This one is simply about light. Those of you who follow me know I love shooting baseball and this year I had a chance to go down to Arizona and shoot the Arizona Fall League. During this game, home plate is in beautiful late afternoon sun, while the stands are in dark shadow. This sets up a nice contrast to get shots like this of the batters. In this case, the batter's form, the dirt from the impact of the ball that has bounced up and is reflecting the light, plus the flare off the top of his helmet, all against the dark background, add up to make for a nice shot.
This is the 28th WBSC U18 Baseball World Cup and the event is expected to draw over 50,000 spectators in total to the games in Thunder Bay, with fans in close to 100 countries tuning in via live-stream broadcasts.
Details on the tournament may be found at http://www.thunderbay2017.com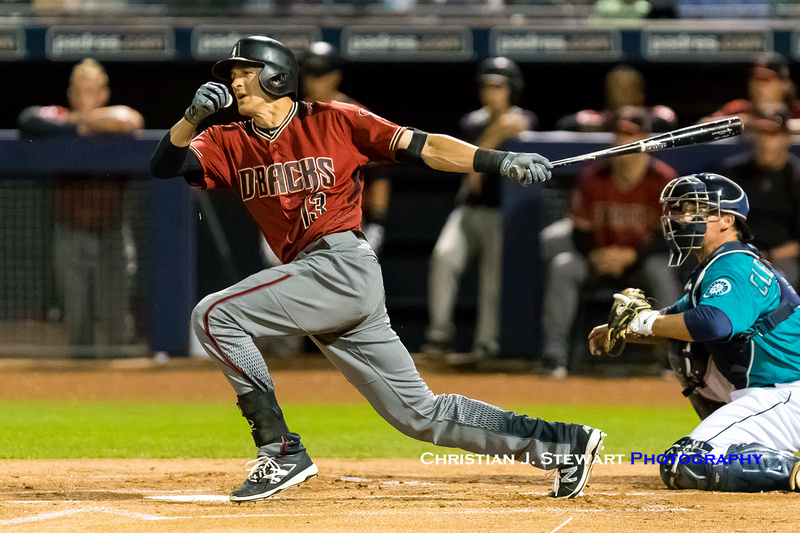 2016 Cactus League Spring TrainingMarch 19, 2016, Peoria, Arizona - The Seattle Mariners host the Arizona Diamondbacks in a Cactus League spring training game at Peoria Stadium in Peoria, Arizona. The Diamondbacks would come away with a 4-2 win. All Photos Copyright Christian J. Stewart and Christian J. Stewart Photography 2016. NO UNPAID USE without the express written consent of the photographer. Editoria use allowed with credit to Christian J. Stewart and Independent Sports News. Telephone: 250-744-7277; E-Mail [email protected]
About Christian J. Stewart Photgraphy
Mr. Stewart has been involved in the sports photography field since the late 1970's and early 1980's and has now evolved into one of the top sports (notably baseball) photographers in the Pacific Northwest. He has covered baseball extensively in Victoria and is the Official Photographer for the Victoria HarbourCats Baseball Club (West Coast League) and Victoria Eagles (BC Premier Baseball League), as well as a Senior Contributing Editor and Photographer for Independent Sports News (ISN) a national web-based sports media outlet. He has also covered games at the Major League Baseball level and prior to the U18s, will serve as the Official Photographer for the 2017 Baseball Canada Senior Men's Nationals that will be held in Victoria in August. Visit http://christianjstewart.zenfolio.com for more details.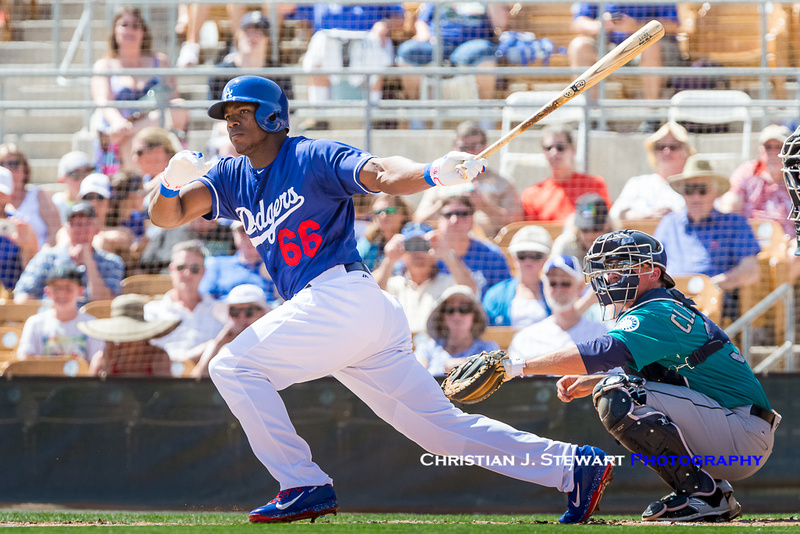 2016 Cactus League Spring TrainingMarch 21, 2016, Glendale, Arizona - Los Angeles Dodger outfielder Yasiel Puig heads to first after stroking a base hit in a Cactus League spring training game against the Seattle Mariners at Camelback Ranch in Glendale, Arizona. The Mariners would come away with a 6-3 win.

WHY I CHOSE THIS PHOTO: Baseball is often a game of athleticism, power, finesse, grace and some ballet all mixed together and I felt that this swing pose illustrated that concept perfectly.
About James Mirabelli Photography
A life-long resident of Thunder Bay, Ontario, Mr. Mirabelli has been photographing sports in the area since the early 1980's. He has worked extensively in the sports media field and has been published nationally and internationally by wire services such Reuters, AFP and Canadian Press, as well as being a regular contributor locally to the Chronicle Journal and TB Source. Mr. Mirabelli is the official photographer for the Thunder Bay Border Cats Baseball Club (Northwoods League), the Thunder Bay Chill Soccer Club, the Lakehead University Thunderwolves Hockey Club, and the Thunder Bay Minor Football Association. Visit http://www.jamesmirabelli.com for more details.
2010 Victoria Seals Baseball Club - Golden Baseball LeagueVictoria BC, May 29, 2010 - Victoria Seals third baseman Brian Rios (5) trots home to his waiting teammates after hitting a walk-off home run to give the Seals a victory over the Orange County Flyers in GBL action at Royal Athletic Park.
About the World Baseball Softball Confederation
World Baseball Softball Confederation (WBSC) is the world governing body for the sports of baseball and softball that was established in 2013 by the historic merger of the International Softball Federation (ISF) and International Baseball Federation (IBAF), the former respective world governing bodies for baseball and softball. Headquartered in Lausanne, Switzerland, the WBSC was granted recognition as the sole competent global authority for both the sports of baseball and softball by the International Olympic Committee at the 125th IOC Session on September 8, 2013. The WBSC has 208 National Federation Members in 143 countries and territories across Asia, Africa, Americas, Europe and Oceania. Visit http://www.wbsc.org for more details.
MEDIA CONTACT:
Mr. Christian J. Stewart
Phone: 250-744-7277
E-Mail: [email protected]