I just completed a weekend of shooting the British Columbia U18A Women's Provincial Softball Championships, where, as the official tournament photographer, I had exclusive access on the field while shooting. I call this a "risk-reward" situation in the heading above, because as you may know, there is not a lot of room between the foul lines and the fences on the infield of a softball diamond and often times I was shooting from just near 1st or 3rd base, or in other cases, along the fence halfway up the baselines, between the on-deck circles and the coaches box.
Of course the risk in these positions is that the girls at this age can hit and throw hard and the danger of being hit by a foul ball or an overthrow is very real and as such, I had to be aware of that on every pitch. I also wanted to be as inconspicuous as possible so as to not interfere with the game or the focus and concentration of players and coaches.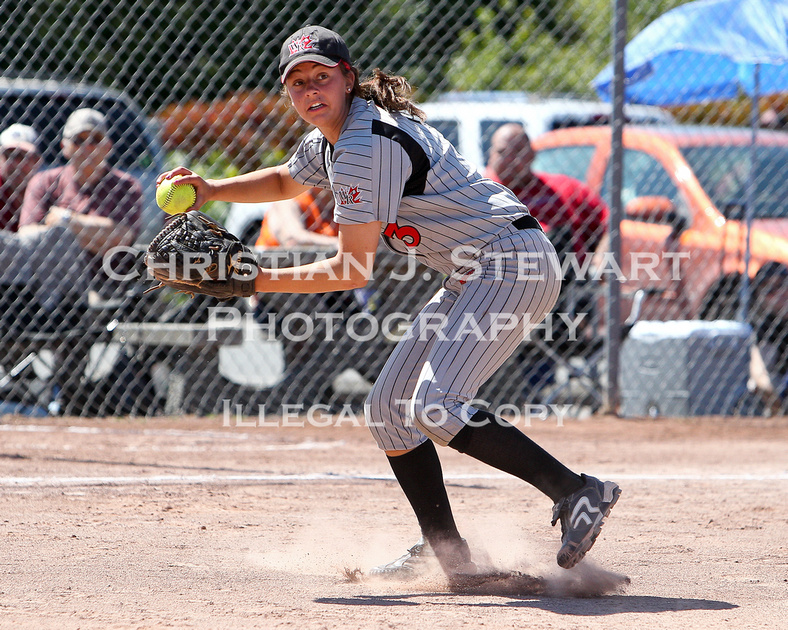 The reward however is getting to capture images that you know nobody else has, even parents with cameras and gear that rivaled my 1D Mk IV and EF70-200 f 2.8L that I used for all of my shots. I did not have to worry about trying to shoot through chain link fences, or over or around players in the dugouts, or being confined to one location, as I could move from side to side freely.
As to the risk part, I managed to avoid being hit by any foul balls or any overthrows. I suppose a large part of that was some good luck, but I think in that situation, you also pay closer attention to the tendencies of hitters, or how a play is developing and your "spidey-senses" kick in to make you aware that danger is approaching or is possible and you shoot accordingly and get ready to move a little bit quicker.
And the reward? Well I've placed a few of my favourite images here in this post and I hope you will agree that being this close to the action certainly pays off in a big way. Please visit the full tournament gallery (HERE) to see more.